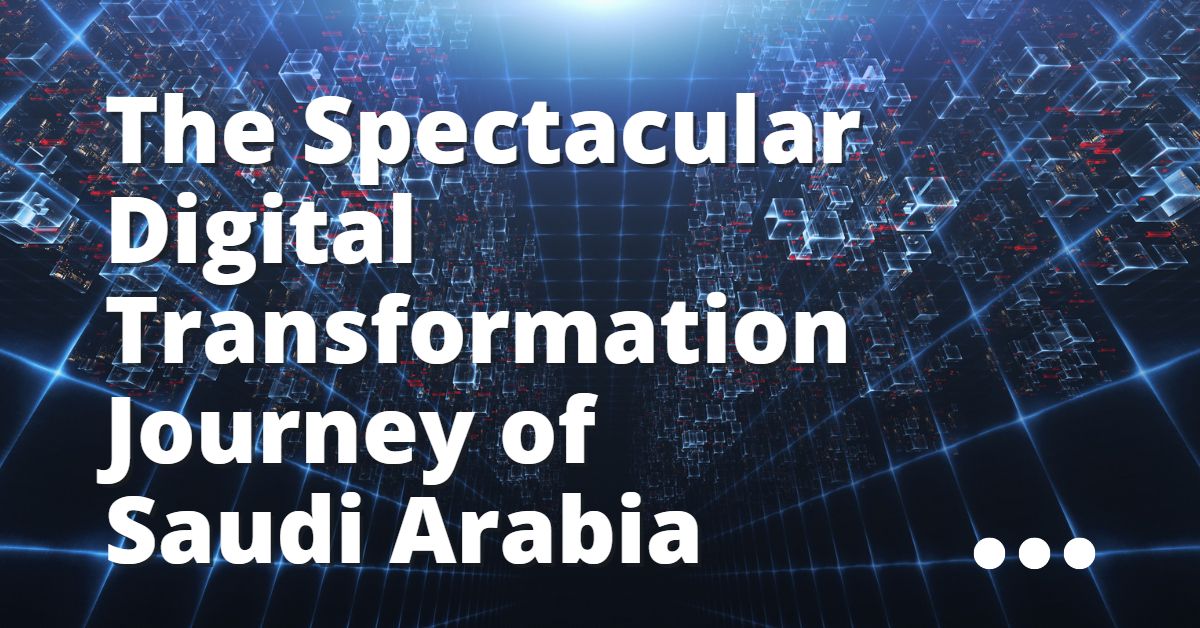 The Spectacular Digital Transformation Journey of Saudi Arabia
Since the inception of Vision 2030, a strategic framework to reduce Saudi Arabia's dependence on oil and diversify its economy, the country has been making striking strides in its digital transformation journey. Accelerated digitalization across various sectors, from oil and gas to aviation and public services, has already begun transforming the face of the Middle Eastern giant, and paving the way towards a prosperous, sustainable future.
One of the cornerstones of this digital transformation is the government's seamless integration of technology in their operations. The Saudi government has been proactive in promoting digital governance, making public services more accessible to its citizens and residents. An example of this is the award-winning "Absher" app, a government service platform that has revolutionized public service delivery in Saudi Arabia. Providing services such as passport inquiries, vehicle registration, and even Hajj permits, the app has proven its effectiveness and efficiency, serving over 20 million users and processing hundreds of millions of transactions annually.
The Tawakalna app is another laudable example of digital governance. Introduced by the Saudi Data and Artificial Intelligence Authority, this app played a vital role during the global pandemic. It offered real-time COVID-19 status updates and facilitated permissions during lockdowns, ensuring public safety while keeping life moving. The Tawakalna app is a testament to the government's quick, effective response in the face of adversity, leveraging technology to address challenges and provide solutions.
Even traditional sectors like oil and gas have been touched by this wave of digital transformation. Aramco has been at the forefront of incorporating cutting-edge technologies into its operations. Its Digital Transformation Program focuses on leveraging advanced analytics, robotics, and AI to improve efficiency and sustainability, driving the growth of the oil and gas sector while reducing its environmental impact.
In the aviation sector, digital transformation has led to improved passenger experiences and operational efficiencies. Saudi Arabian Airlines (Saudia), the national carrier of Saudi Arabia, has integrated digital technologies to streamline its operations, enhancing customer satisfaction through personalized experiences, real-time updates, and digital ticketing. Its commitment to digital innovation has been recognized on a global level, winning the International Data Corporation's "Digital Transformer" award in 2019.
Notably, the Saudi government is not only focusing on utilizing digital technologies but also on building a robust digital infrastructure. With initiatives like the National Industrial Development and Logistics Program (NIDLP), which aims to stimulate investment and innovation across several sectors, Saudi Arabia is poised to become a leading global logistics hub, powered by digital innovation.
Moreover, to foster a digital culture and cultivate the next generation of digital leaders, numerous educational and upskilling programs are being launched across the country. The establishment of institutes like the Digital Capability Center in Riyadh exemplifies the nation's commitment to nurturing digital talent and accelerating digital adoption.
In conclusion, Saudi Arabia's digital transformation journey, guided by Vision 2030, is truly remarkable. From government services to traditional sectors, the country is harnessing the power of digital technologies to foster growth, improve public services, and propel itself into a vibrant, digitally empowered future. The continued commitment and efforts of the Saudi government are testament to their vision and determination to position the nation as a global digital leader, setting an inspiring example for the rest of the Middle East and beyond.